OUR OWL DETECTIVES AND THEIR OWLS
Thanks to all our Owl Detectives for their ongoing contributions.
If you know anything of interest about these owls then please email the team with information. info@leedsowltrail.com
Ruth Blaumberg
Former Leeds Mercantile Bank building (soon to appear on our map), next to The Bourse, on Boar Lane by Thomas Ambler 1872. There are many other birds carved on this building but are there more owls?
Thomas Ambler (1838-1920) lived and worked in Leeds and designed many other buildings, including the surviving Grade 2 listed buildings on the south side of Boar Lane, St James's Hall in New York Street, and the Grade 2 listed Moorish factory (now offices) of St Paul's House in Park Square, Leeds. The latter building is a real treat and certainly worth a visit even if the have been no sightings of owls.
On the door of the Yorkshire Penny Bank Building a magnificant carving oiled and preserved.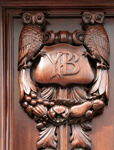 Kirkgate Chambers, Leeds Kirkgate Market.
Detail is similar to the Kirkgate Chambers Mosaic. The owl also features in a beautiful stained glass window.
Ursula Hansen
Belgium tourist Ursula Hansen spotted these owls at Churchill House, 17/19 Wellington Street.
Built in 1859 by George Corson, No. 17 "Churchill House" was built for woollen manufacturer Thomas Pawson of Stonebridge Mill, Wortley, No 19 for John Sykes and Sons.
Caitlin and Michael Blick
These Quebec Street owls were spotted by two of our young owl detectives. Well done!
Barrington Moy
Leeds Central Library Interior. This one is above the entrance to the lending library and is on the opposite side of the inner hall.
Thoresby Building, rear elevation, Rossington Street (overlooking the old school yard).
It was built in 1900 for the Leeds School Board and in 1901 opened as the Pupil Teacher's College with 600 students. Brian Godward, author of "Leeds Heritage Trail", advises that this experiment in educating young people as teachers did not prevail and in 1909 it became an ordinary high school for girls known as Central Higher Grade School. It was converted to Council offices in 1995.
St John's Church 1634
Address: St John the Evangelist, 23 New Briggate, Leeds, LS2 8JD
St. John's Church is located off New Briggate, although you can gain access via the Merrion Street Gardens. It was consecrated in 1634 and is Leeds' oldest surviving church. It merits 6 pages in the Pevsner Architectural Guide to Leeds and a visit is highly recommended. You can find the book at the Leeds Civic Trust bookshop by visiting www.leedscivictrust.org.uk
For further information go to: www.visitchurches.org.uk
Opening times: 11-3pm Tuesday-Saturday Telephone: +44 (0)113 244 1689
North Lane Headingly, Youth Service.
The building on North Lane, Headingley, was built by the Council in 1914 in mock Tudor style for a new Overseers' Office. It has since been used by the Council for a variety of uses and is currently used by the Youth Service.
The Library Public House on the corner of Clarendon Road and Woodhouse Lane.
The Library pub was built in 1901 and was formerly a police station, fire station and a library. Whilst one of the former uses has given the pub its name, another of its former uses is commemorated by the carved pickaxes and hoses on keystone of the arch above the main entrance door on Woodhouse Lane.
Headingley Taps Pub, North Lane, Headingley
There are two Leeds coats of arms on the front elevation of the Headingley Taps pub which is located on North Lane, Headingley.
This handsome stone listed building with elaborately shaped gables was built as a pumping station by Leeds Corporation Waterworks to pump clean water to new development in the higher areas of the rapidly expanding town. The foundation stone was laid in 1858 and the building opened in 1860. The pumping station was decommissioned in the 1980s and was converted to a pub in 1994.
Jeff Mitchell (Civic Hall Porter)
We now take you inside the Civic Hall.
"Shiny polished white and bright Portland stone, gilded we are not. We were positively radiant in the dirty Leeds of 1933. With best seats in the house for Kings and Queens we've seen them all from George V to QE2.
John Grogan
The vision for a "Leeds General Infirmary" dates back to June 1767 and in 1861 as the population grew to around 2017,000 a new building was designed by Sir George Gilbert Scott. This Victorian building located in Great George Street is still an important part of the infirmary today.
In 1879, 1885 and 1891 the Scottish architect George Corson enlarged the original scope of the Gilbert Scott building. Other extensions include the Brotherton Wing built to house private patients. This was hit by German bombs during an air raid shortly after in opened in 1940, but was fortunately undamaged.
The Martin and Wellcome Wings, both in stark modern styles, opened in the 1960s, and were followed by the Clarendon Wing in the 1980s, bringing women's and children's services together at the Infirmary for the first time.
Upper Wortley Police Station was built in 1899 and replaced an earlier police station on the same site. The building includes a turret, Leeds Coat of Arms and a pair of owls as well as a Potts Clock.
The Oakwood Clock, which was erected in Oakwood in 1912 after first appearing in Leeds Market. These photographs were taken before the recent restoration which has brought the clock back to its former grandeur.
Holbeck Free Public Library, in Ninevah Street, opened on 26 November 1903 and is situated at the junction of Nineveh Road and Marshall Street. It was built to the design of William Bakewell and is faced with Burmantofts glazed terracotta tiling. The building is now used as offices.
Cardigan Road, Headingley
This impressive owl was spotted on a private house in Headingley.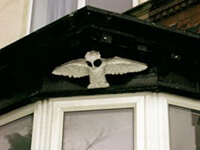 York Road Library Owl Mosaic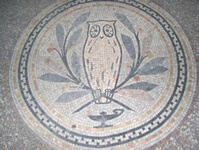 Nick Moss – Leeds film maker
Leeds Magistrate's Court
There is a carved wooden owl in every court at Leeds Magistrates Court, around 20 owls.
Court 13.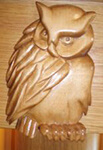 Sue Newell
LS1 Club, Albion Place.
Built in 1820 this building has been home to the Leeds Club since 1849. It has been renamed 'Club LS1' and remains a private members' club. Gents' toilets are the 'oldest public toilets in Leeds'. There are many more owls sat around in this building, so if you are at LS1 and fancy sending us some more images we will be delighted to post them on this site for everyone to enjoy.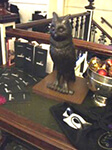 The Monkbridge Owls
"I'm not easy to spot here in my stone parapet. But I'm a survivor. Gone are my cast iron cousins, melted down for the war effort."
"Built in the 1880's by Thomas Hewson. I'd say that I'm a handsome bridge, all pretty in green."
"I fulfilled an important role, you see Leeds made everything and it all came across here from clothing, pins, aircraft wings and bars of soap! All that has gone now but I'm still here carrying commuters and city living folk!"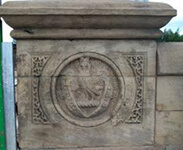 West Yorkshire Archive Service- Sheepscar
The Sheepscar Branch Library designed by the Architect F. L. Charlton FRIBA opened in April 1938 and is now home to the West Yorkshire Archive Service (WYAS). The stained glass window featuring the Leeds Coat of Arms is located above the entrance.
This is a stunning interpretation of the Leeds Coat of arms where the crowns on the "Owls" are so clear and the golden fleece appears illuminated or gilded rather like the owls in Millennium Square.
The Leeds office of the WYAS holds many items relating to parish, local, estate and business collections and is open to the public who wish to undertake research.
For more information about the service visit
Sara Land
Elland Road – Leeds United Football Club
These owls were spotted by Sara Land at the office. Thanks!
Banqueting Suite Wall- West Stand
Notice the Coat of Arms 'Pro Rege et Lege' Latin for 'King and the Law' has been replaced by 'L.U.F.C'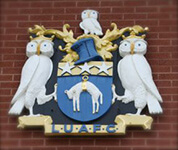 Seacroft Hospital, Leeds
Spotted by Sara Land and photographed by Leeds Daily Photo who kindly granted Leeds Owl Trail permission to use the images in 2010.
Roundhay Park, Leeds
Roundhay in the 13th century was a three square mile hunting park for the DeLacy family of Pontefract Castle. The entire estate was purchased by the City of Leeds in 1872 and opened as a public park by His Royal Highness Prince Arthur on the 19th of September 1872. The park comprises over 700 acres of parkland, lakes and woodland.
To find out more visit http://www.roundhaypark.org.uk
Jean Hardmann
Leeds Heritage Trail Plaque
This beautiful brightly painted Heritage Trail Plaque is sited on a wall near Granary Wharf – near the canal towpath.The Owls are splendid.
These Owls were spotted and photographed by Jean Hardman.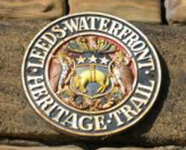 Lynda and Clifford
Armley Mills, Industrial Museum
(Left) Placed in the 'Small Engines Gallery' a particularly fine example of the Coat of Arms
(Right) On the 'City of Leeds' Horse-drawn fire engines in one of the outside sheds.
James Brown – Owl Team member
Bolling Hall – Bradford
Bolling Hall, a superb medieval Manor now in Bradford a mile from the centre.
On one of the stained glass windows is the attached Savile family crest showing a wide diagonal stripe sporting three owls. The Hall had been in the Tempest family from 1497 but because of their debts during the civil war, was sold to Henry Saville of Thornhill Green in about 1650. For more information http://www.bradfordmuseums.org
James Brown admiring Steve Blaylock's 'owl' sculpture.
Fei – student
Swarcliffe in Leeds
This Leeds Coat of Arms was created by artist John Mkenna R.A.B.S by the city architects department for a public building in Swarcliffe in leeds. We think it is on the community centre. The relief is fired in red etruria marl brick clay to frost resistant temperature.
If anyone knows which building it is on please let us know we are currently trying to find out.
Fei is a student who the Leeds Owl Trail is currently working with to translate the map into Chinese for the 5000 chinese students studying in Yorkshire.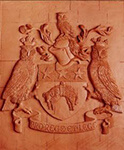 Hilary Denham
Kirkstall Road
Spotted by Hilary Denham on Kirkstall Road this is a former council office and a truly magnificant owl.
James McKay
Bramley Baths
Bramley Baths is a Grade 2 listed building designed by architect J.Lane Fox and opened in 1904. There are many "owls" appearing on and within this building. For more information please click on this link. victoriansociety.org.uk
James Mckay is our Bramley Baths Owl Detective and also a member of Leeds Sculpture Workshop!
Jon Linstrum
Armley Library
Armley Branch Library was built in 1901 and it is a magnificent building described to be in Flemish Renaissance style with Art Nouveau glass.
Jeremy Thompson
The Old Police Station – Chapel Allerton
Copyright Jon Elland 2006.
Merrion Centre Owl – Scare Owl!
This Owl is secured on the rafters by the entrance to Wade House on the balcony level of the Merrion Centre. It was put there approximately 10 years ago by the centre manager at the time to scare off pigeons. It is common for "scare owls" to be used to deter unwanted visitors. However, since the installation of the shutters and doors at the entrances, its job is now redundant. However, the Leeds Owl Trail is proud to say the Merrion Centre Owl now has a new purpose as an owl to spot and it does look a "bit" like the owl on the Leeds Coat of Arms but where is the crown?
Somewhere near you?
Sometimes our owls are on the move. These were spotted at a traction engine rally!
Caroline Hill
Weetwood Hall, Otley Road
This steel and bronze sculpture adorns a vehicle turning circle at the front of Weetwood Hall (hotel and conference centre). It was created by Steve Blaylock and consists of a cairn of Yorkshire stone topped with an oak tree made of steel with bronze leaves and within the tree are three owls inspired by the emblem of Leeds City Council.